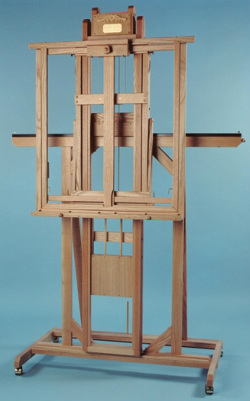 Welcome to the Home of the Legendary Hughes Easel.
PLEASE NOTE
Due to an unforeseen medical emergency there will be a delay of approximately three to four weeks in the production and shipping of product. Existing orders will be processed in the order they were received, new orders will be placed in Que. We recently raised our prices to reflect the increased costs of materials due to the ravages of the last hurricane. Be assured if your order was placed before the price increase those figures will be honored. We are expecting this issue to resolve within three to four weeks at the latest.

As the owner of Hughes Easels, I would like to personally thank you for visiting the Hughes Easels website. The evolution of the Hughes Easels product line spans five decades with major improvements occurring each year. The first Hughes Easel was designed with the consummate large scale artist in mind. Over time with the input of many artists, the Hughes Easels product line has evolved into a modular system. Our products are available in a variety of sizes that are guaranteed to provide a lifetime of outstanding performance and satisfaction. Each Hughes Easel is individually hand crafted from select hardwoods. Built from the ground up using good old American ingenuity, craftsmanship and attention to detail. The internal counter balance mechanism is U.S. patent protected. There are no ropes, boat winches, exercise weights or other gadgets to break or cause injury. Each Hughes Easel is built to last a lifetime.
Over the years many companies have tried to copy the Hughes Easels product line and failed. Don't be fooled by a lesser imitation or knock-off copies. My goal has always been to provide the art community with the finest easels and studio accessories available in the United States. The ongoing reputation of Hughes Easels products in the professional art world attests to the success of my endeavor. I look forward to serving you and answering any questions you might have. If you have further questions or would like to place an order please call 1-800-485-6081 or 1-941-637-8252. The shop is always busy so don't be surprised if you get the answering machine. But not to worry! Just leave a message and I'll return your call in short order. If you simply cant wait and would like to see the products in action visit the Hughes Easels You Tube Channel at
http://www.youtube.com/user/HughesEasels
.
Don Andrews.
---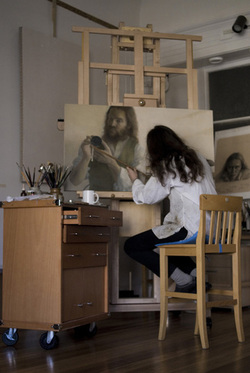 Over the last few decades of making professional custom easels I've come to understand the real needs of the working artist and have built products to satisfy those requirements. Each artist has specific requirements for their particular style of painting. The genre they work in, the constraints imposed upon them by their studio space and the size of the media they work with all come into play. Some paint small, others large. Some paint so large that it boggles the imagination. Many work in a wide variety of media; oil, acrylic, water colors, pastel, and the list goes on. Each style demands a somewhat different approach to working efficiently and comfortably. Regardless of what size one paints or the media used it's paramount to be comfortable and safe.

The majority of easels are built on the same old concept. Art goes on, then maybe up and down. Pallet lays on a shelf at the bottom of the painting with brushes, mediums and what not. The canvas is clamped in by two offending gadgets of some sort which always get in the way. Painting to the top and the bottom edge of the canvas is impossible. Ultimately the art has to come off the easel and be flipped to get full edge to edge coverage. Chances are good that the transition will be visible. In theory that might work for a few but in reality the concept just doesn't fly. It's downright dangerous to be flipping a canvas when working large. Having a canvas fall to the floor results in a disaster.

Comfort and creativity go hand in hand. The concept of bending down to the floor to dip your brush into your palette for each and every color note is counterproductive and hard on your back. Our counter balanced carriage completely eliminates that process. Hughes easels are designed to be ergonomically friendly and hold canvas. They allow it to move side to side and up and down while still being securely mounted.

Imagine locking your canvas securely into place and not having to remove it from the easel till it's done. Have you ever wished you could move your canvas up down or from side to side with just the touch of a finger? Does the concept of never having to leave your chair to paint the opposite sides of the canvas (within the range of the carriage movement) thrill you? If you never had to strain to lift the lower edge of a heavy work of art to your eye level while painting would that tweak your curiosity?

Wouldn't it be nice to know that your work will never fall off your easel and find it's way to the floor regardless of it's size? Would it make you happy to never take your canvas the easel to paint under the lip clamp. What would it be like to finally be able to finish a painting without messing around? If any of this is of interest then you've come to the right place.

If by the time you have read all of the information, looked at the videos and you are still not convinced that these easels are the finest products to be had anywhere "You" are invited to take the Hughes Challenge!
---
The Hughes Easels Challenge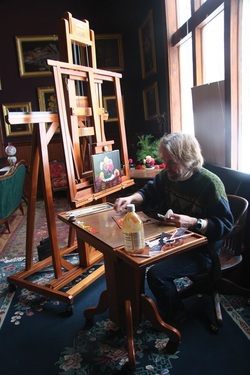 There are so many brands and types of studio easels on the market for you to choose from. Before you buy you need to be well informed. It would be impossible to provide you with links to all of the major easel manufacturers in the world or the sites which carry their products. To aide you in making your decision we have listed a few of the companies which we believe are producing fine products worthy of your consideration. Please take look at what they have to offer. then decide what's right for you. Acquiring a professional quality studio easel is a major undertaking both in terms of time spent researching and in dollars invested. Before committing to purchase an easel, one should carefully examine each and every facet of the product offered by the manufacturer to determine if the product will perform as desired. There are many questions to be asked; Does it allow room for growth? Are the highest quality materials available used in its construction? Will it last a lifetime under constant use? Is it comfortable to work with? Is it worth the amount of funds expended? Would I trust it to hold a painting worth several hundred thousand dollars?
Each Hughes Easels product offers these qualities and many more. Still, only you can decide what's right for your style of painting. That is why we offer many sizes and options to choose from. If you don't see exactly what you need, an easel can be custom built to your specifications. Modifications can be made as to overall physical size, carriage configurations, floor or wall mounts, color or type of wood.
These Companies Offer Excellent Products. Check and compare.
Seriously, if we thought there were better products available than the Hughes Easels line we wouldn't make this challenge. The cost of quality spread over time is something you must consider. Check our references, then decide. We already know what the answer is. For museum quality painting, art restoration and museum photography purposes our easels have no equal as evidenced by our client list. The list has grown so large we can't keep up with it. There are literally hundreds of well known artists using Hughes Easels products world wide. Yes, over the last few years Hughes Easels has spread internationally beyond our wildest dreams. Fortunately we are close to an international shipping port so we can deliver the goods quickly anywhere in the world.
This is just a partial list for your edification.
Scott Christensen, John Banovich, Christopher Pierce, Steve Hanks, Alan Hermies, Guy Coheleach, Ovans Berberian, Kathleen Dunphy, James Howell, John Seerey Lester, Jamie Wyeth, Linda Weaver, Coni Adams, John Howard Sanden, Quang Ho, Michael Gibbons, Steve Moppert, R.S. Riddick and Thomas Kinkade (RIP). There are so many more wonderful artists who have decided to use our products. Cruise through our
gallery
and see who you recognize.
Hughes Easels products are used by many museums and professional organizations for restoration, teaching, display and photographic preservation. If these organizations are comfortable mounting and working on paintings worth millions of dollars, what else can be said.
The Portrait Artist's Society.
The Museum of Church History Salt Lake City, UT.
The Museum of Art. Raleigh, NC.
The San Francisco Museum of Fine Art.
The Indianapolis Museum of Art.
The Fredericksburg Artist School.
The Stanford University Art Gallery & Museum.
The Museum of Fine Arts Boston.
The Smithsonian Institution Portrait Gallery
The J. Paul Getty Museum.

Being tactile people, we know artists just love to touch and feel something before they decide to own it. Unfortunately, you won't find a Hughes Easel product in any art store to play with. But it may be possible to supply you with the name and location (based on the artist's acceptance of course) of one who is the proud owner of a Hughes Easel and may let you come see and touch! Or at a minimum, tell you by email or telephone about their personal experience with our products to help you make a decision . You will also be able to contact owners through their websites or blogs as many are listed in the gallery.
So please, do take our challenge. Go look at the competition. Look long and hard. Compare, make calls, ask questions of the artists whom you respect. Check out the big names in the art world, see what they use. Then when you are convinced there is no finer product on the market and you are ready to have a beautiful functional studio easel call us.
"I take great personal pride in knowing that each and every item leaving my facility is the finest product that your money can buy. Your expectations will be surpassed. I guarantee it !"
Don Andrews
President
---