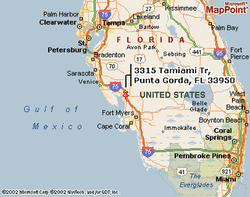 Hughes Easels products can be shipped directly to your studio or gallery from our facility located in Punta Gorda, Florida . We are very near to the Miami International Airport and other major shipping portals. This insures rapid worldwide transit for your order.

Customers requesting international shipments are responsible for making all arrangements with regards to the selection of their carrier, the mode of transportation, insurance, and all charges and tariffs pertaining to the delivery of any products ordered.

We can recommend several reputable international shipping companies. However we cannot ship, secure or track international deliveries. Due to the wide variety of regulations, restrictions and tariffs abroad it's best that these arrangements be handled by you the client. Please note that the crates are large and very heavy. This places them beyond the capabilities of smaller shipping companies like Fedex and UPS.

All shipments are F.O.B. Punta Gorda, Florida USA That is to say that prior to leaving our facility products must be paid for in full. While this may sound daunting it's actually quite painless as we ship all over the world. If you have questions feel free to give us a call.

Problems with damaged shipments are a rare but ongoing concern. Perhaps more so with international orders. We suggest you choose the best shipping company available to you to insure safe delivery. Be sure to note the condition of the cartons upon arrival. Check for any signs of damage before your driver leaves to ensure that the crates have not been damaged in transit. If there are holes in the crates or something else is amiss, we strongly suggest you open the crate. If the item is damaged refuse delivery of the damaged carton(s). Fork lift damage is not readily visible. We recommend you examine the cartons thoroughly for any holes, tears or signs of damage, even to the point of turning the cartons over. If you do not do this at the time of delivery you may have no recourse but to pay for damages which should have been the responsibility of the carrier. Try to be present at the time of delivery. Have your delivery service driver make notes of any damage and contact us immediately.
---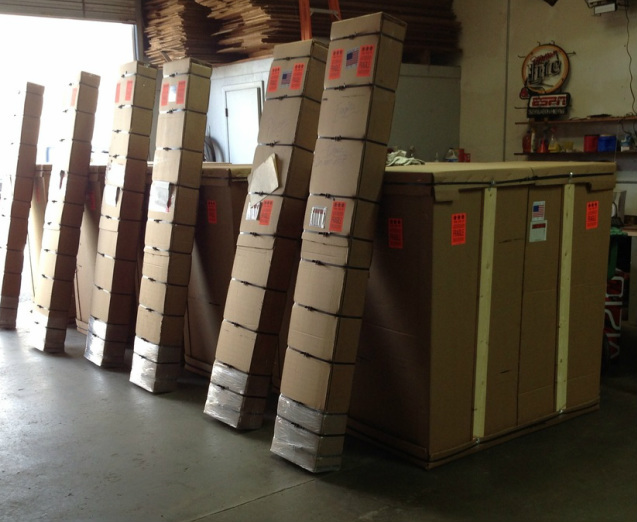 Our products are securely packed and well crated. You should consider having a friend over to assist in unpacking and assembly. Again, open, inspect and unpack before you bring the crates inside. You wont have so much to lift and you wont damage your flooring.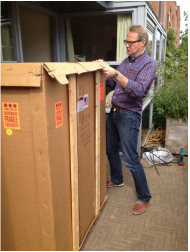 You will require simple tools to unpack the crate. A good pair of wire cutters to cut the banding. A sharp razor knife to cut the card board. A small screwdriver and perhaps a small pry bar to unpack everything else. Be sure to note the condition of the cartons upon arrival before the driver leaves to ensure that they have not been damaged in transit. If something is amiss be sure to have your delivery service make a note of it and contact us immediately.

Assembly instructions are supplied in DVD format. Before you attempt to assemble your easel please watch the dvd and follow along. There are certain procedures which if not followed correctly will require you to disassemble and reassemble the product. The installation of the internal counter weights is best left to your friend with the strongest fingers and arms! Especially so on the 5000 and 6000 models.
---